Home - Site Map - Arting - Writing - Photos - Updates - Partners - Contact
The Butterfly Conspiracy: Co-Arting with Amy Frank!
As an idea for an artistic co-project, Canadian artist Amy Frank and I decided to each make our own interpretation of the same picture, with some very specific size requirements, with the intention of then cutting each piece in half and switching one of the sides, so we each have a complete picture, but with each of our individual styles represented. As we have never met, the entire project was undertaken through online communication and via postal mail.  To start, we used the following picture and dimensions:
Our individual completed pieces turned out as follows, with mine on top – please note they have already been cut in half, and you can find the full page for my piece HERE.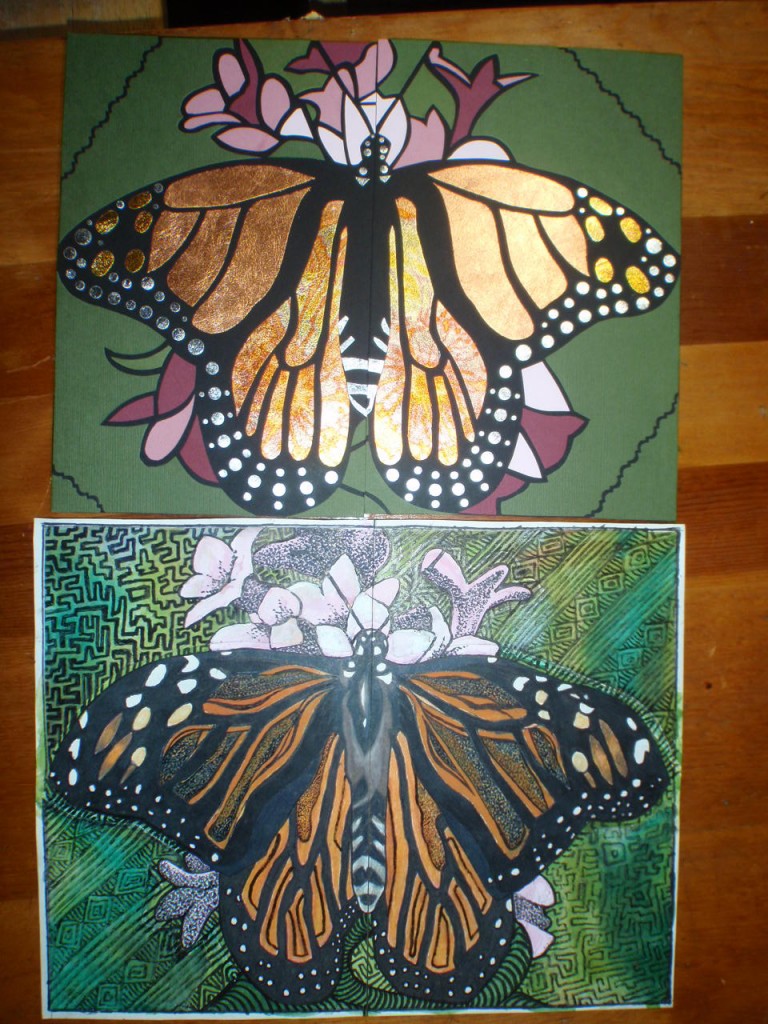 The halves were then switched with the following completed results:
While it was a complicated idea that took a little more precision than normal, I couldn't possibly be happier with the outcome, and I would like to extend my gratitude to Amy for taking on the project with me.  I consider her to be one of my favorite artists, and you can find her website, The Mind of Amy Frank by clicking HERE. While you are there, don't miss the opportunity to check out her prints (HERE) and originals (HERE) for sale.
You won't be disappointed!
Home - Site Map - Arting - Writing - Photos - Updates - Partners - Contact